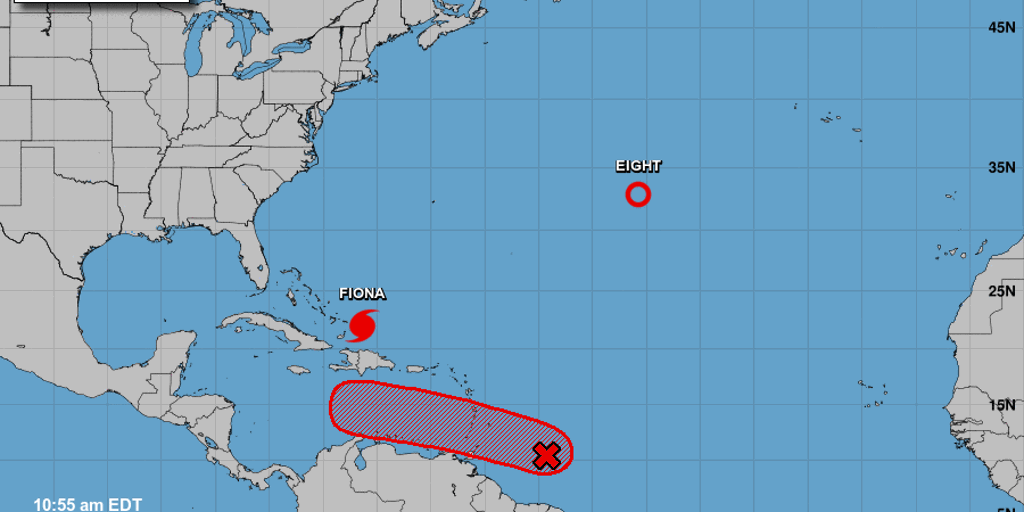 A new tropical disturbance in the Caribbean is expected to develop into a tropical depression within 48 hours. According to The Weather Channel, this system could develop into a hurricane and threaten the Gulf of Mexico next week.
The National Hurricane Center is very busy monitoring five weather systems, including Hurricane Fiona, Tropical Storm Gaston, and three tropical waves.
This is the peak of the Atlantic Hurricane season, so property owners in hurricane-prone regions need to be alert.
A hurricane can be devastating to your home or business. With plenty of storm activity on the radar, reviewing our Hurricane Insurance Claim Survival Guide is an excellent idea.
Hurricane Fiona exploded into a powerful Category 4 storm on Wednesday morning, with winds of 130 miles per hour. The storm is expected to continue to strengthen as it heads towards Bermuda by Friday.
People in Puerto Rico and the Dominican Republic are dealing with widespread damage after the storm made landfall there Sunday. The storm caused extreme flooding and critical damage to water and power systems.
Hurricane Fiona is not expected to impact any of the coastal areas of the United States.
The tropical wave in the western Caribbean will cause concern over the next several days. Some computer models suggest it could reach the Gulf "probably at hurricane strength" by the middle of next week.
Is your insurance policy prepared?
If a hurricane could strike your business, you should know that FEMA says 25% never re-open their doors after a storm. Here at Sill, we strongly recommend a quick review of your policy which could help SAVE your business.
We're not talking about an evacuation plan or hurricane preparation. We're talking about something you can do RIGHT NOW before a storm even forms. 
Now is the time for a quick review of your insurance policy to ensure you have the best possible coverage to protect your property.
Visit our hurricane survival guide to find advice on preparing for and dealing with hurricane insurance claims.
If a hurricane damages your home or business, you have the right to hire a public adjuster to get professional help with your insurance claim. Most property owners will just call their insurance company, but a public adjuster could save you countless hours of work and thousands of dollars.
A public adjuster DOES NOT work for your insurance company; they represent you, the property owner. Hiring a public adjuster means you will have a licensed insurance policy and damage expert working to protect your best interests throughout an insurance claim.
Sill is the leading public adjuster firm in North America, and we have several offices in the southeastern United States. Our disaster response team is carefully monitoring the weather situation, and they will deploy to any affected area within hours of the storm.
Hiring a public adjuster is your best opportunity to ensure a more successful outcome for your claim. We can take on the burden of producing a comprehensive proof of loss document, which your insurance company will require.
Our team also understands critical deadlines that must be met by all parties in a hurricane insurance claim. When you hire Sill, you get the insurance settlement you deserve, and we will expedite your entire claim.
Be sure to stay informed about the latest storm activity over the next several days. You should also save our phone number, and call us 24/7 at 844.650.7455 if your property suffers any storm damage.