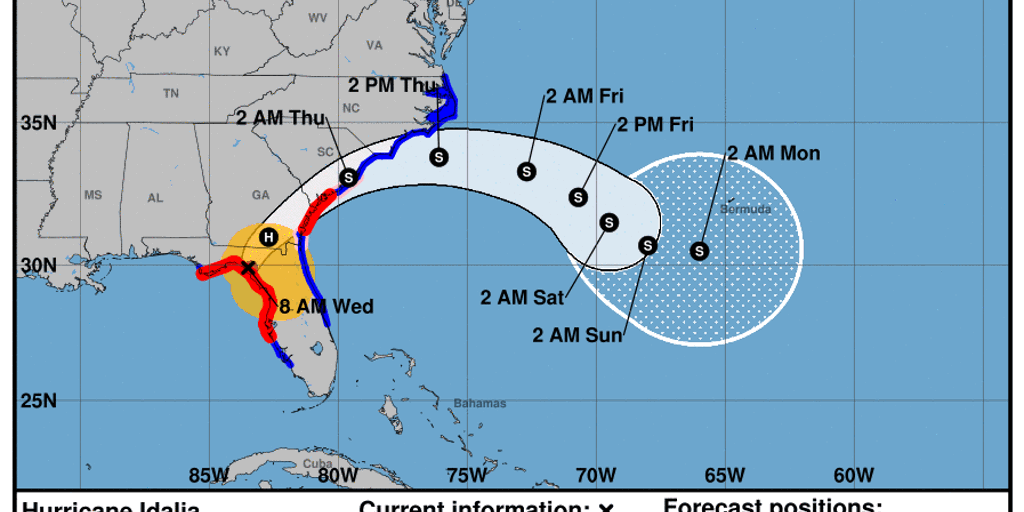 Hurricane Idalia made landfall at 7:45 Wednesday morning as a powerful Category 3 storm. Forecasters say the storm's winds were sustained at 125 miles per hour.
It is expected to remain a hurricane as it tracks north into Georgia. The storm pushed a dangerous storm surge ashore, with some areas expected to see 12 - 16 feet of water.
Mandatory evacuations were ordered in 30 counties throughout Florida. Local news reports said more than 115-thousand people were already without power. 
Our disaster response team will be in a position to assist anyone who suffers property damage within hours of the storm passing.
A hurricane can be devastating to your home or business. According to FEMA, 25% of businesses never reopen after a major disaster. 
Your business can survive the storm by taking a few steps to prepare.
First, if you know a storm is coming, you can board up your windows to limit the damage. You can also move any valuable equipment, like computers or other devices, to an upper floor if you cannot remove them altogether.
Second, you will want to take photos and videos of your business. This can be used to provide a detailed inventory list of the items inside your company. These contents may be eligible for replacement costs in an insurance claim, so documenting your property before the storm is incredibly helpful.
RELATED | How to survive a hurricane insurance claim
If your home or business is damaged, you must know what you can and cannot do. Anything you touch could put your safety at risk and could affect your insurance claim.
The first thing you should NOT do is try to let a contractor handle your claim. A public adjuster is a licensed insurance industry professional, and by law, ONLY a public adjuster can assist you with your claim. It is critical that if you decide to seek outside help with your claim, you work with a licensed public adjuster.
Next, you do NOT want your insurance company's adjuster to inspect the property damage when you or a public adjuster is NOT there with them. If they inspect the property alone, there is a very good chance something is overlooked or missed during that inspection.
RELATED | What NOT to do after a storm damages your home or business
Filing an insurance claim for your business can quickly turn into a long and stressful ordeal. If the damage was caused by a hurricane that caused widespread damage, that only makes it worse.
First, your insurance provider may be dealing with numerous claims, which means their resources may be stretched thin. It could mean you will have adjusters coming in from out of state who may not be familiar with hurricane claims.
In some cases, your insurance company may start to rotate adjusters assigned to your claim; this can lead to confusion or prolong the process as each new adjuster brought in has to get up to speed.
Right now, spiking materials costs are also causing issues, as insurance companies may not be accounting for those increases when they consider your replacement costs.
RELATED | Challenges you will face with an insurance claim at your property
One of the most important decisions any property owner can make after a hurricane is to contact a public adjuster. A public adjuster does not work for your insurance company; they represent your best interests throughout an insurance claim.
A public adjuster can take the burden of handling your claim off your shoulders so you can focus on your recovery. Sill is the leading public adjusting firm in the industry, and we represent hundreds of property owners each year.
Here's what we do:
Review your insurance policy
Document your property damage, including all contents
Schedule meetings and handle communication with your insurance company
Settle your claim faster
Hiring Sill means you will get the insurance settlement you deserve. Our disaster response team will deploy to any affected area within hours of the storm.
Our team is available 24/7 by calling 844.650.7455.