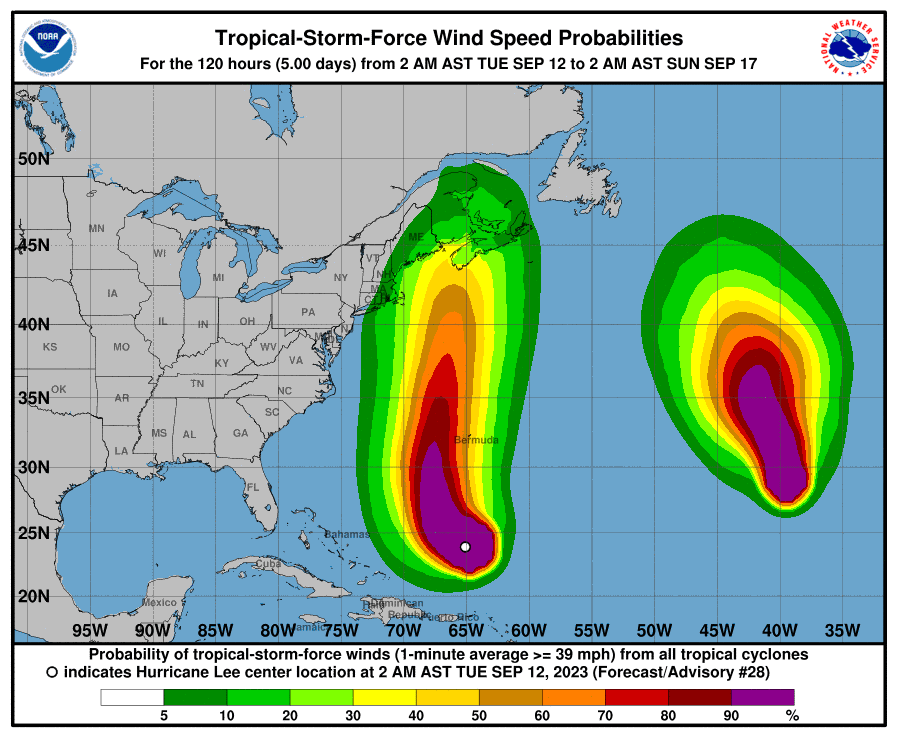 Hurricane Lee is expected to turn north and may impact parts of New England by Saturday. All eyes are on the storm's track as we wait to see if it will make landfall anywhere.

The storm will track north over the next several days. Dangerous surf and rip currents are expected along the East Coast throughout the week.
Experts will be tracking the storm closely, so anyone who lives in an area that may be impacted needs to stay informed.
Is your insurance policy ready for a hurricane?
If a hurricane could strike your business, you should know that FEMA says 25% never re-open their doors after a storm. Here at Sill, we strongly recommend a quick review of your policy, which could help SAVE your business.
We're not talking about an evacuation plan or hurricane preparation. We're talking about something you can do RIGHT NOW before a storm even forms. 
Here are three things you need to look at right away:
First, do you have flood components? A basic policy does not always cover a storm surge and rising waters. Consider adding flood coverage to help with your recovery efforts.
Second, wind-driven rain is not the same as other water-damage coverages. Look at your policy to see if there is a wind-driven rain exclusion. If there is, consider changing this component.
Third, let's talk about your deductible. A higher deductible may cost you less RIGHT NOW, but how does that compare if your business suffers damage? You should compare those costs and determine your risk. A lower deductible may be more cost-effective than lower monthly premiums. (READ MORE)
How to find out what you are entitled to in an insurance claim
If a hurricane slams into your business, you will most likely be dealing with your insurance company. One of your best choices is to call our team here at Sill for help throughout the insurance claim process.
We are the leading public adjusting firm in North America, and we can handle your claim for you and let you know what you are entitled to as far as coverage each step of the way.
First, we can provide an expert review of your current policy from one of our licensed insurance professionals. We will identify all coverages in your policy and ensure that your insurance provider pays for everything they are responsible for.
By hiring Sill, you are forming your own team that represents your best interests in the claim. Our property damage experts can inspect every inch of your business and put together a complete damage report for your claim. This will include damage to the building and all contents that should be covered under your policy.

If you have business interruption coverage, we also have forensic accountants who can help you recover any lost revenue due to the storm. (READ MORE)
What NOT to do after a storm damages your home or business
If a hurricane has impacted your business, you must know what you can and cannot do. Anything you touch could risk your safety and affect your insurance claim.
The first thing you should NOT do is try to let a contractor handle your claim. A public adjuster is a licensed insurance industry professional, and by law, ONLY a public adjuster can assist you with your claim. It is critical that if you decide to seek outside help with your claim, you work with a licensed public adjuster.
Next, you do NOT want your insurance company's adjuster to inspect the property damage when you or a public adjuster is NOT there with them. If they inspect the property alone, there is a very good chance something is overlooked or missed during that inspection. (READ MORE)
Sill is North America's leading public adjusting firm; we represent hundreds of property owners each year. We have a team of experts with the experience to handle even the largest hurricane insurance claims.
In October 2018, Hurricane Michael slammed into Florida, causing extensive damage. A property ownership group called Arbor Properties saw significant damage to three apartment buildings near Panama City, Florida.
More than 850 apartment units suffered varying degrees of wind and water damage.
The loss became one of the most extensive hurricane claims in history, with an approximate value of $90,000,000.
Sill's team was there to lead a team of experts through a two-month process to inspect the property damage. Our team also led the negotiations with the lead adjuster for the insurance company. Throughout the process, Sill worked to secure funding so the property owners could focus on their rebuilding efforts.
"The bottom line is that this huge claim was able to get resolved in fairly short order with adequate funding being issued along the way, which allowed us to rebuild quickly. This made the city happy as we are the largest housing source," said Gordon Thames, President of Arbor Properties, Inc. (READ MORE)
You can contact Sill immediately if your home or business is damaged during a hurricane. Our disaster response team will deploy to any affected region within hours of the storm. We can help you by speeding up your recovery, expediting your insurance claim, and ensuring you get the settlement amount you deserve.
Sill is available 24/7 by calling 844.650.7455.