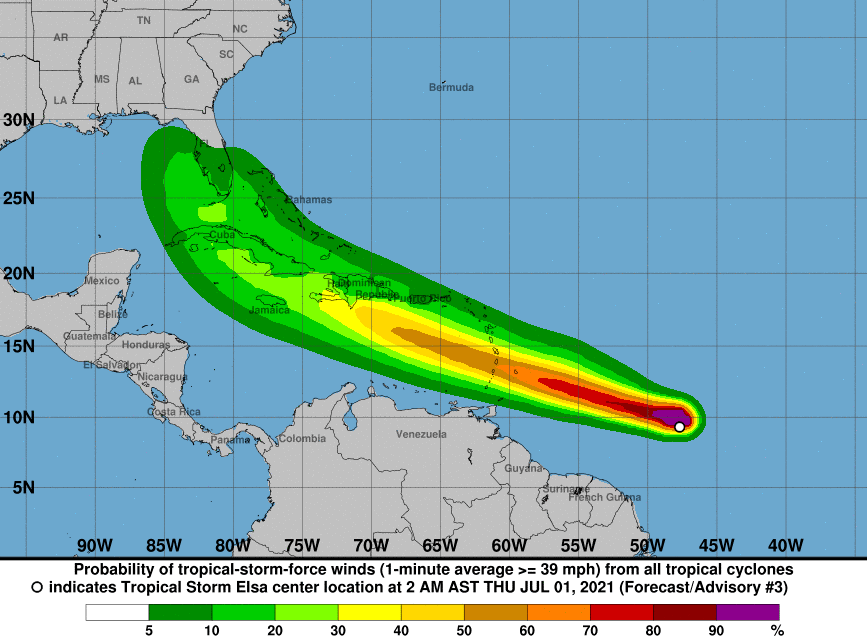 Tropical Storm Elsa has formed in the Atlantic Ocean. The storm is projected to impact the Caribbean Islands this weekend. As of 5AM on July 1st the storm had maximum sustained winds of 40 MPH.
The storm track has heavy rain and winds moving into portions of the Windward and southern Leeward Islands by Friday morning.
On Saturday Elsa could move into the Virgin Islands, Puerto Rico, Hispaniola, Cuba, the Turks and Caicos, and the southeastern Bahamas by early next week.
While it is too early to be certain, those who live in Florida should keep an eye on the storm's track as it could impact the state closer to Tuesday next week.
Sill's disaster response is carefully monitoring the situation and will respond anywhere should the storm lead to significant property damage.
Our team can help business and large residential property owners who find themselves dealing with property damage due to a tropical weather system.
ADVICE | 5 things to do right away if your property is damaged
We have offices in Orlando, Delray Beach, Atlanta, Charlotte, and Houston which means we can respond to any affected region within hours. Sill is the most experienced and most trusted public adjusting firm in North America.
If Tropical Storm Elsa leads to damage at your property you can call Sill to get expert help throughout an insurance claim. We can take on the burden of handling all claims paperwork and damage assessments which can become a long and difficult process, especially for business owners.
Here's what we do:
Review your insurance policy to identify all coverages
Document your property damage, including all contents
Schedule meetings and handle communication with your insurance company
Settle your claim faster
Ensure you get the settlement you deserve
Hiring Sill means you'll have an insurance expert on your side throughout the complicated insurance claims process. We have the experience to handle even the largest hurricane damage insurance claims, including a $90 million loss suffered by Arbor Properties in Panama City, Florida.
Sill helped the business to recover and rebuild after a devastating storm in 2018.
If you own a business you should keep an eye on the weather forecast, but also take a moment to review your company's hurricane plan. According to FEMA 25% of businesses do not reopen after suffering hurricane damage.
RELATED | Is your business prepared for a hurricane?
Sill can help you recover, and in many cases we can help your business to survive after a storm. Contact Sill 24/7 if you suffer any type of property damage.
WEATHER SOURCE: NATIONAL HURRICANE CENTER