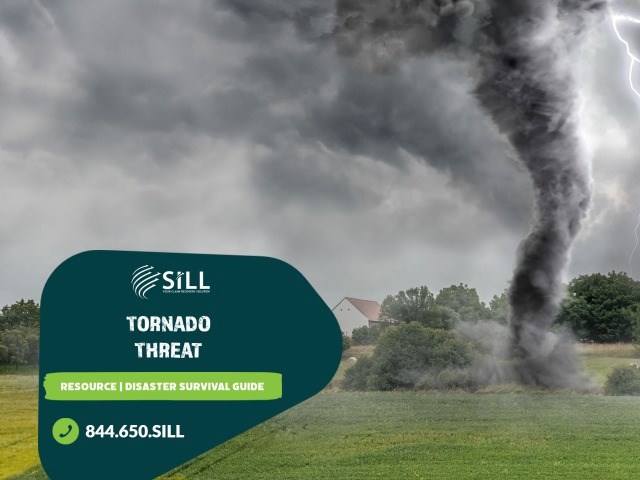 Weather experts say another round of severe weather will impact parts of the South and Midwest Tuesday into Wednesday.
A powerful storm front could bring dangerous tornadoes, strong winds, and large hail. Forecasters are concerned about the timing, which may bring extremely dangerous nighttime tornadoes.
According to The Weather Channel, Southern states like Texas, Louisiana, Oklahoma, and Arkansas could have severe storms on Tuesday afternoon. Northern states like Missouri, Illinois, and Iowa should see the primary threat Tuesday evening.
By Wednesday, the storm front will shift to the east threatening Indiana, Michigan, Kentucky, and Ohio.
This storm threatens the regions that saw a significant tornado outbreak last Friday.
HOW TO PREVENT STORM DAMAGE TO YOUR PROPERTY
Disasters happen, so you can't protect your property when a large tornado directly hits your property, but there are steps you can take first to protect yourself, then try to limit the damage.
The National Weather Service has a few suggestions to help you limit storm damage and protect your co-workers or family. 
First, be sure to survey the area around your property. Clear away tree branches that may pose a risk. If you know a storm is approaching, secure any loose objects, close windows or doors, and move any valuable belongings indoors.
RELATED | Is your insurance policy prepared for a disaster?
Second, protect yourselves by creating a plan. Identify an emergency meeting place. Pick a safe room in the basement or an interior room away from windows. It would be best to practice a safety plan, especially at a place of business.
Once the storm clears, you must inspect your property for damage. Protect yourself from power lines and be extra cautious inside a damaged building.
If you find significant damage, you must file an insurance claim. A public adjuster works for the property owner in an insurance claim. Most people do not know they have the right to get professional help from a public adjuster.
You and your insurance company must meet critical deadlines immediately after a storm. If these deadlines are not met, it can lead to difficulties with your claim. (READ MORE)
WHAT IS A PUBLIC ADJUSTER?
A public claims adjuster is a professional licensed by each state's insurance department. We protect the public by advocating for the policyholder against their own insurance company throughout a property damage claim process.
While your insurance company may have been friendly and easy to work with when selecting your coverage, they overnight become your adversary once you have filed a claim. Your insurance company employs adjusters to ensure that their interests are protected. When you hire a public adjuster, your best interests are protected.
The Sill team has advocated for its business and homeowner clients for over 90 years to ensure that your rights are protected and that you maximize your claim recovery.
5 THINGS TO DO BEFORE YOU FILE A PROPERTY INSURANCE CLAIM
If your property has suffered significant damage, you and your insurance company must meet specific deadlines. You must immediately mitigate further damage, including boarding windows or covering a damaged roof with a tarp.
Here are 5 things to do before you file a claim:
Create a list of all property damage
Take plenty of pictures and video 
Get your insurance policy number and your agent's contact information
Be prepared to explain the cause of the damage
Call a public adjuster to get professional help with your claim
You'll need to act quickly to get your claim started for the most successful outcome. Calling a public adjuster is one way to ensure your claim goes as smoothly as possible.
ADVICE | Do you have the right insurance coverage?

A public adjuster can step in to provide expert support. They are licensed by your state's insurance commission, which means they understand policy language and coverages that protect your property from disaster.
TORNADO INSURANCE CLAIM: WHO TO INVOLVE, WHEN TO HIRE A PUBLIC ADJUSTER
After a tornado, the damage to a property can be devastating, and the process of repairing or rebuilding can be overwhelming.
Knowing what to look for and who to involve in the insurance claim process can make a significant difference in getting the settlement you deserve. This article will cover the key steps and considerations for property owners after a tornado.
Assessing the Damage
The first step after a tornado is to assess the damage to the property. This should be done immediately to ensure safety and prevent further damage.
If the property is deemed unsafe, evacuate immediately and return when a professional has inspected it.
Once it is safe to enter the property, take pictures and videos of the damage, including structural damage, personal property, and any debris or items that may have been lost or damaged.
Insurance Claim Process
After assessing the damage, starting the insurance claim process as soon as possible is essential. Contact your insurance company and provide them with the information and documentation you have collected.
VIEW NOW | Insurance Claim Survival Guide
The insurance company will likely send an adjuster to assess the damage and determine the claim's value. If the damage is severe, they may also send a team of adjusters and specialists.
Who Should Be Involved in the Insurance Claim?
During the insurance claim process, several parties may be involved, including:
Insurance company adjuster: The insurance company adjuster is responsible for assessing the damage and determining the claim's value. Cooperating with them and providing them with all the necessary information and documentation is essential.

Contractor: A contractor can assess the damage and provide an estimate for repairs or rebuilding. They can also guide the repair process and help ensure the repairs are done correctly.

Public adjuster: A public adjuster is a licensed professional who can help you navigate the insurance claim process and ensure you receive a fair settlement. They work on your behalf and are paid a percentage of the settlement.
When to Hire a Public Adjuster?
Hiring a public adjuster can be beneficial if you have significant property damage or the insurance company is not offering you a fair settlement.
At Sill, we have an experienced disaster response team. We are carefully monitoring the situation with this latest severe weather threat.
Our team can respond to any location within hours. If you experience any damage, you can get started with your recovery plan by contacting Sill right away.
Call 844.650.7455; our team is available 24/7.