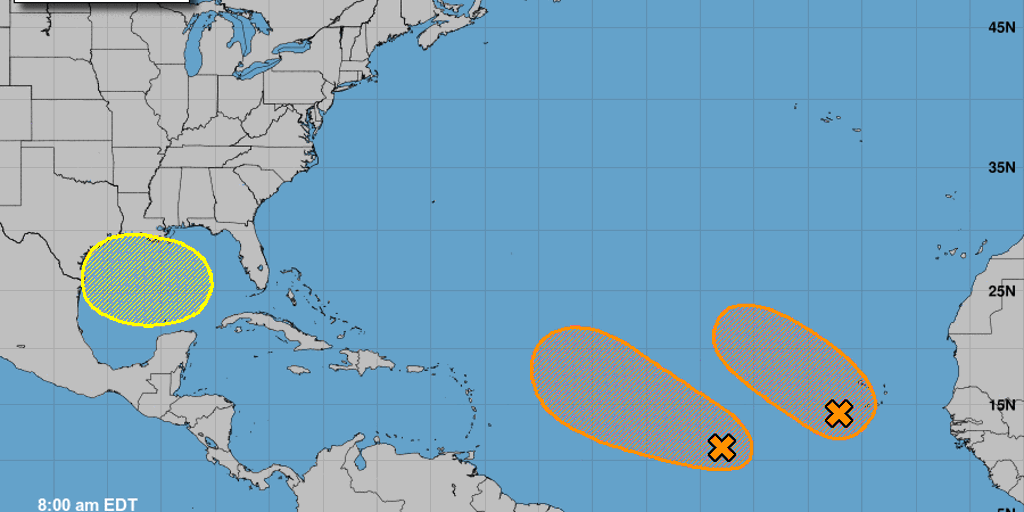 The National Weather Center is tracking two tropical waves that have the potential to develop into a tropical cyclone. One is a disorganized set of showers and thunderstorms; the second is a broad area of low pressure.
Weather experts say both have a 40% chance to develop into a tropical system in the next 48 hours. It's too early to know if either will threaten any parts of the United States.
So far, the Atlantic Hurricane Season has not produced a hurricane, but forecasters still expect plenty of activity with the peak of hurricane season just getting started.
Hurricanes are known to cause widespread property damage and can be deadly for anyone in their path.  It's essential to have a plan. You should have a plan to protect your property before the storm hits and a plan for how you'll handle your recovery efforts if your property is damaged.
Our team at Sill Public Adjusters has shared important information for anyone who lives in a hurricane-prone region in our Hurricane Survival Guide. 
Reviewing your insurance policy and discussing your coverages with your insurance provider is a good idea. 
Here are three things you need to look at right away:
First, do you have flood components? A basic policy does not always cover a storm surge and rising waters. Consider adding flood coverage to help with your recovery efforts.
Second, wind-driven rain is not the same as other water-damage coverages. Look at your policy to see if there is a wind-driven rain exclusion. If there is, consider changing this component.
Third, let's talk about your deductible. A higher deductible may cost you less RIGHT NOW, but how does that compare if your business suffers damage? You should compare those costs and determine your risk. A lower deductible may be more cost-effective than lower monthly premiums.
RELATED | Is your insurance policy ready for a hurricane?
If a hurricane has impacted your business, you must know what you can and cannot do. Anything you touch could risk your safety and affect your insurance claim.
The first thing you should NOT do is try to let a contractor handle your claim. A public adjuster is a licensed insurance industry professional, and by law, ONLY a public adjuster can assist you with your claim. If you decide to seek outside help with your claim, you must work with a licensed public adjuster.
Next, you do NOT want your insurance company's adjuster to inspect the property damage when you or a public adjuster is NOT there with them. If they check the property alone, there is a good chance something is overlooked or missed during that inspection.
RELATED | What NOT to do after a storm damages your property
Our Hurricane Survival Guide has plenty of additional information to help you create a strategy for how best to protect your property in the event of a hurricane. In some cases, damage cannot be prevented, but if you have a good strategy, you can protect yourself and ensure you'll have the best possible outcome after a storm.
A key component in hurricane recovery is hiring a public adjuster. A public adjuster is an expert when it comes to hurricane damage claims. Sill is the leading public adjusting firm in the industry. 
Our disaster response team will be in any affected area within hours of a storm. We represent hundreds of property owners each year and guide them through their insurance claims.
When you hire Sill, we can step in to complete each step of your claim for you. Our clients settle much faster, and they receive a much more significant amount from their insurance company than they would have on their own.

After a storm, you can reach us 24/7 by calling 844-650-7455.
SOURCE | NOAA.gov