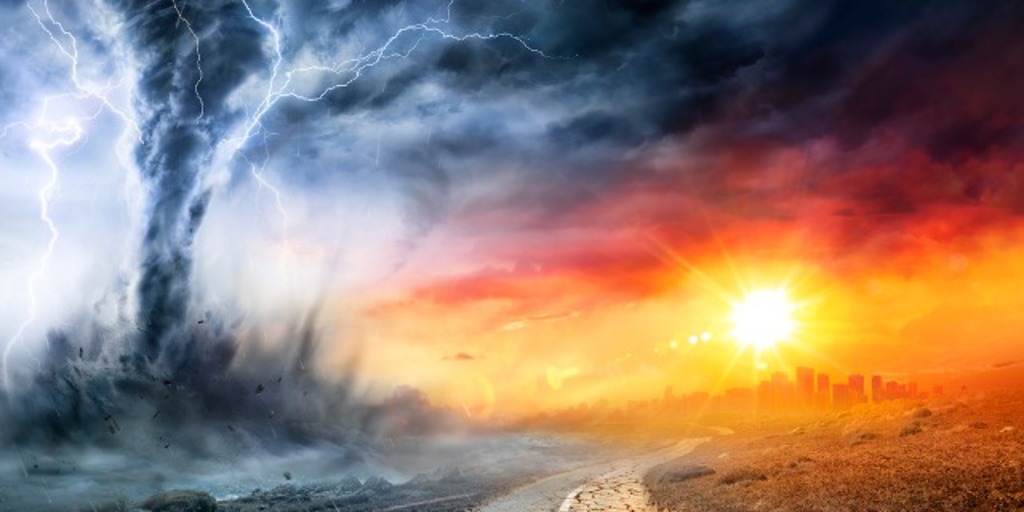 A recent report published by Insurance Business Magazine looked into the most expensive natural disasters in the United States.
Property damage insurance claims and economic impact combined for $169 billion in 2021 in the United States, according to professional research firm AON.
Over half of the economic losses were covered by insurance claims last year.

What caused the damage?
Several types of natural disasters led to damage in the United States, and according to the report, the total economic impact was 95% above the annual average for the 21st century. 
Tropical storms and hurricanes accounted for significant damage last year. A total of eight tropical cyclones impacted the U.S., leaving damage from wind and flooding from the Gulf region to the Northeast.
Severe storms brought hail, tornadoes, and a derecho to other parts of the country, including Texas, Oklahoma, and Kentucky, causing extensive property damage.
Other natural disasters included a polar vortex in February, a heatwave in June, and wildfires that scorched millions of acres.
Most expensive catastrophes?
According to AON, 23 events in the U.S. in 2021 wound up causing more than $1 billion in economic loss. Here is a list of the costliest disasters in 2021, according to AON.
Hurricane Ida - August - $75 billion
Polar Vortex - February - $23.7 billion
Drought - 12 months - $9 billion
Tornadoes - December - $5.1 billion
Hailstorms - April to May - $3.4 billion
Natural disasters lead to billions of dollars in insurance settlements. When large-scale weather events cause widespread damage, property owners and insurance companies can be overwhelmed with recovery efforts.
A public adjuster can help expedite an insurance claim. Consumer Reports recommends hiring a public adjuster for anyone who owns a commercial or large residential property.
What is a public adjuster?
A public insurance adjuster does not work for the insurance company. A public adjuster works for the property owner, and provides expert insurance claim support, to ensure the claim is settled in a timely manner. A public adjuster also ensures the property owner gets what they deserve in an insurance claim.
A public adjuster is NOT an independent adjuster or your insurance company adjuster. When you hire a public adjuster your level the playing field by bringing in an expert who advocates for your best interests.
Best public adjusters?
Sill is the leading public adjusting firm in North America. We have a disaster response team that can respond to any location within hours. Our firm includes property damage, contents damage, and insurance policy experts.

We also have a team of forensic accountants who can handle business interruption claims. 
Our public adjusting firm helps hundreds of property owners each year by providing expert insurance claims management support. If you own a home or business hiring a public adjuster can save you countless hours of work and thousands of dollars if you find yourself dealing with a damage claim.
We specialize in commercial property damage claims. Significant losses can lead to complex and stressful claims for property owners who may not be experts regarding insurance. Business owners count on Sill to takeover their claim so that they can focus on their recovery efforts.
According to FEMA, 25% of businesses never reopen their doors after a storm strikes their property. When you hire a public adjuster, you have an insurance expert advocating for you when you file an insurance claim.
Whether you own a small business or a large business property, it is a good idea to hire an expert who has experience in dealing with property loss claims.
Our team can work directly with your insurance company's claims adjuster. We can be there for every step of the insurance claim process.
When you hire Sill, here's what we do:
Review current insurance policy, identify all coverage limits
Inspect your property damage, assess and document all value
Handle all communication with the insurance company
Ensure your insurance company gives you the coverage you deserve
Settle your claim much faster and for a more significant amount
Hiring a public adjuster is the best way to ensure you get what you deserve in an insurance claim. A public adjuster is there to protect the property owner's best interests throughout their claim.
Sill has the experience to ensure that your insurance company meets all required deadlines from the moment you file your claim.
RELATED | How to get a fair settlement in an insurance claim
How to prepare for a disaster
It is impossible to prevent disasters from occurring, but you can take some steps to protect yourself and your property before a storm.
It is a good idea to review your current policy terms to ensure you have the right coverage. For properties at risk of flood, you will want to be sure you have flood components in your policy.
Another piece of advice is to think carefully about your deductible. A higher deductible may give you a lower monthly rate, but it could become an issue if your business is damaged. A lower deductible may help you after a disaster, as you may need additional cash on hand for your recovery.
Sill has a FREE disaster survival guide available to business owners. We have prepared some tips that could help save your business. You'll find advice on your policy, how to prepare your property for a looming storm, and what you should do after the storm.
If your property suffers any type of damage you can contact Sill 24/7. We have offices throughout North America and Canada. Our team is licensed by the insurance commission board to assist property owners with their insurance claims.
Call 844.650.7455 to get help today.
SOURCE: Insurance Magazine