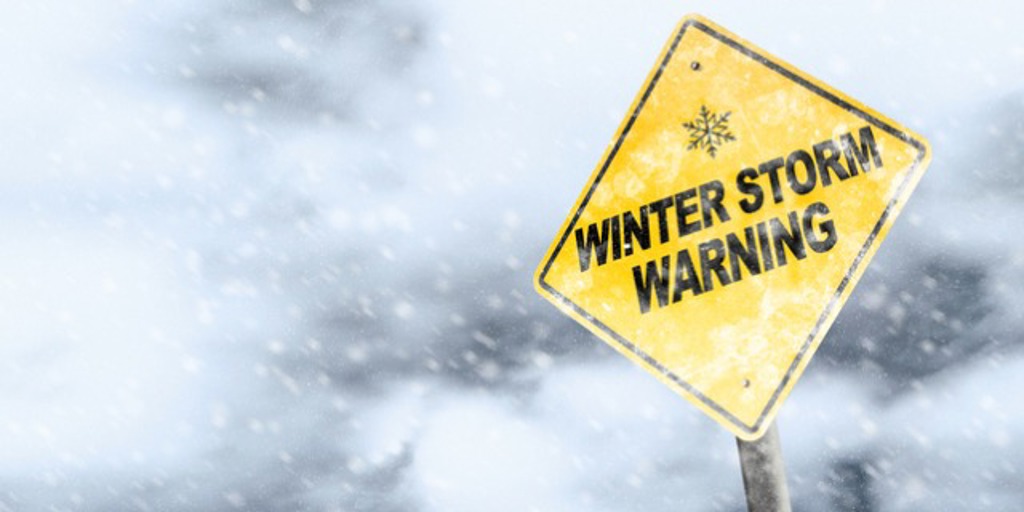 A massive winter storm is forecast to bring heavy snow, strong winds, and brutally cold temperatures to an area that spans from the Dakotas to the Northeast.
Meteorologists have been tracking the system for days now, warning anyone in its path to be prepared. The storm is expected to cause major travel headaches and a significant threat to property due to strong winds, followed by plummeting temperatures.
Winter weather can lead to several issues when it comes to your property. Heavy snow can cause a collapse, extreme cold can burst a water pipe, and ice buildup and cause significant damage to any roof.
The storm is threatening more than 112 million people in the United States. Weather experts say the most concerning part of the storm will be wind gusts exceeding 50 miles per hour and extreme cold.
If your property suffers any damage during the storm, you will likely need to file an insurance claim. You should know that you have the right to get expert help to process your claim from a public adjuster.
A public adjuster does not work for your insurance company; they can be brought in to handle each aspect of the claim. First, a public adjuster is an expert in insurance policy language.

A public adjuster can read your policy and quickly determine all coverages you are entitled to. If you hire a public adjuster, be sure your state's insurance commission licenses them.
An insurance claim due to winter weather damage may be confusing as it will be essential to determine the exact cause of the damage. At Sill, we have a team of building experts who can carefully inspect your damage and produce a detailed proof of loss document for you.
Your insurance company will require this, and it is just one part of the process to navigate an insurance claim successfully. Any insurance claim can become time-consuming, especially for a property owner that may not be an expert in insurance claims or policy language.
Our team of licensed insurance experts can assist you in this way:
Review your existing insurance policy
Review and document all property damage for your claim
Handle all communication with your insurance company
Ensure the insurance company gives you the coverage you deserve
Settle your claim much faster and for a more significant amount
A recent article published by Consumer Reports suggests hiring a public adjuster for help with an insurance claim.
The article offered advice for property owners who need to file an insurance claim after a fire, a storm, or another type of disaster. Public adjusters can negotiate the terms and settlement amount and get your property repairs underway much faster. (LEARN MORE)
A significant weather event can mean hundreds of thousands of property owners will file an insurance claim. This could lead to some delays, but you should know there are specific deadlines that must be met to reach a more successful outcome. At Sill, we specialize in large-scale damage situations at commercial or large residential properties.
Our disaster response team can respond to any location within hours to assist property owners and get their claims started immediately. When you contact Sill, you get immediate expert support to file a claim properly.
FIRE RISK INCREASES
The number of fire insurance claims increases every year during colder months and the holiday season. Our public adjusters have dealt with hundreds of fires at homes or businesses caused by heating sources and holiday decorations.
Your property is at risk if you don't properly use or maintain a few items in use during this time of year. According to the National Fire Protection Association, heat sources, candles, holiday decorations, and even holiday cooking can lead to a devastating fire.
December, January, and February are considered peak months for fires. Heat sources are the second leading cause of home fires, death, and injuries in the United States. Most often, the fires are caused by improper use of a space heater. (LEARN MORE)
Sill is one of only a few public adjusting firms with a complete team of policy, building, and contents damage experts and forensic accountants that can settle a business interruption claim. We have the experience to handle any claim and specialize in significant loss situations at commercial properties.
---
---
We can ensure you are in the best possible position to rebuild your home or business.
The entire claims process can be overwhelming, especially for someone who has just dealt with fire devastation.
The cold and snow will continue throughout the winter, but you can take steps to prevent a fire. Be sure to have your chimney properly cleaned, have your furnace checked, and take extra caution when using alternate heat sources like a space heater.
RELATED | Tips to prevent ice dams and roof damage during winter
It is important to remember that an insurance claim takes time, but hiring Sill means you will have an expert who can handle negotiations with your insurance provider. If your property has been damaged, contact Sill 24/7 by calling 844.65.7455.
SOURCE | Accuweather