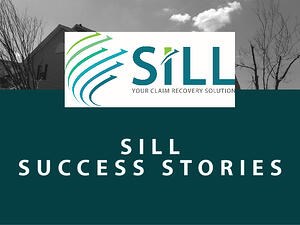 In October of 2019, a fire gutted Diesel Dick's Auto Repair shop in Bloomington, Illinois. Alan and Pamela Dick had been operating the repair shop at this location since 1985. Within minutes their business was left in ruins.

Within hours Sill Public Adjusters arrived at the property to see first hand what happened to the business. The Sill team got to work quickly for the business owners to help them with their financial recovery from such a devastating loss.
VIDEO | NEWS REPORT RELATED TO FIRE
Here's a letter from Alan and Pamela Dick where they're sharing their experience with Sill Public Adjusters.

On October 31, 2019 our 40-year business was completely consumed by fire; the physical structure and entire contents were destroyed. As it happened, Jeffrey O'Connor, Executive Vie President of Alex N. Sill's Indianapolis, IN location pulled into our adjoining property that day and observed first hand our loss. He left his card, welcoming us to contact him if we needed any additional recovery services. Auto-Owners Insurance had provided out business coverage for many years; and we had no reason to believe a third party service would be necessary to obtain a fair settlement for out loss. Little did we realize this would not be the case.

In early Spring, Alan phoned Mr. O'Connor and he agreed to review our loss claim. Shortly following we were contacted by Mr. Michael Hickle, Executive General Adjuster. He requested some additional information, met with us via telephone conference one time, and promptly contacted our firm's initial adjusters to begin advocating on our behalf. Michael exemplifies so many qualities which made it a pleasure to work with him: empathy for our loss and how overwhelming navigating the many resulting processes has been; communication to keep us apprised throughout; perseverance undeterred by stubborn adjusters; and professionalism - quickly digesting the details surrounding our claim, his manner of correspondence, and respectfulness of us. As business owners and I, as a commercial lending banker, recognize an organization's vision and culture begins with executive management. I have no doubt Michael and Jeffrey typify the expectation of Alex N. Sill Company.

Last week Michael reported to us his success negotiating a substantial actual cash value loss settlement; we could not be more pleased! Most businesses never expect a major loss or interruption, but unfortunately, such events occur. We extend our heartfelt appreciation to your firm for handling our loss. It will be our pleasure to recommend Alex N. Sill Company to any individual or business - large or small - needing significant insurance claims service.


---
EXPERIENCED A LOSS? CONTACT SILL
---
Sill Public Adjusters have been helping clients like Diesel Dick's for more than 90 years.

Our support staff is available 24/7, and our expert claims adjusters can help you recover from property damage or loss of business revenue due to a natural disaster. 

Sill Company is the nation's leading public adjusting firm, always working exclusively for the policyholder and never the insurance company, with its primary charges of taking the burden of handling your insurance claim off of your shoulders while maximizing your claim, in order to allow you to get your business back up and running as quickly as possible.