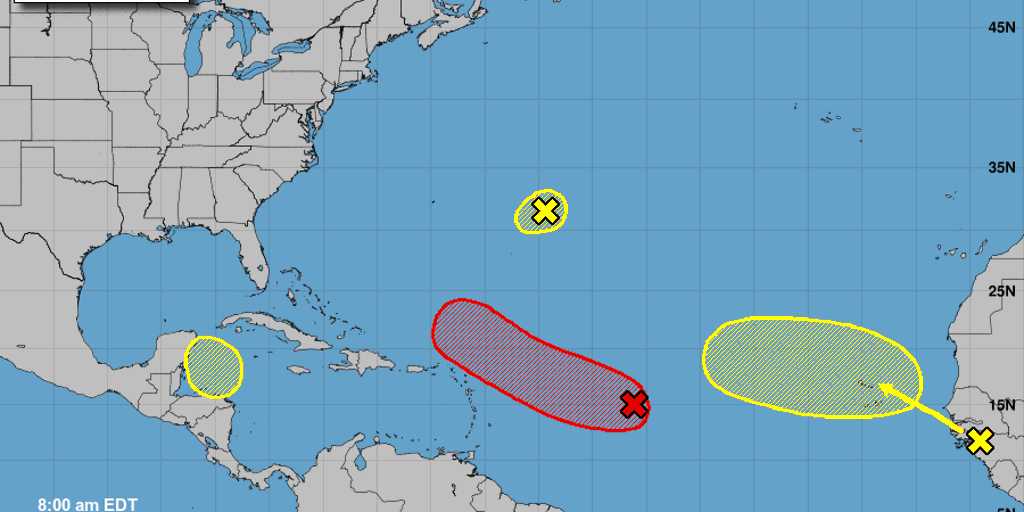 Weather experts are tracking three tropical disturbances in the final days of August. The first system is over the central tropical Atlantic, and it is expected to develop into the first tropical depression seen in two months.
It is a broad area of low pressure with a 50% chance of developing into a tropical cyclone in the next 48 hours. Experts say it has an 80% chance for development through the next five days.
It is too soon to project much else beyond this, but meteorologists will continue to track the system.
A second disturbance that is currently 600 miles east of Bermuda has a marginal chance of developing into a tropical cyclone.
A tropical wave is projected to move off the coast of Africa by Tuesday morning. Experts say this wave could see some gradual development as it moves westward over the Atlantic Ocean.
The National Oceanic and Atmospheric Administration, NOAA, still expects an above-normal hurricane season, despite a quiet start.
Our disaster response team at Sill Public Adjusters continues to monitor storm activity. Our team is prepared to assist any property owner who faces an insurance claim resulting from storm damage.
We have some advice for anyone who owns a home or business in a hurricane-prone region. Our Hurricane Insurance Claim Guide offers plenty of advice.
You can take steps before the storm hits to best prepare and protect your property. A thorough review of your policy terms could save your business from disaster.

Our hurricane guide includes advice on what to do before, during, and after a hurricane. 
According to FEMA, 25% of businesses never reopen their doors after a disaster. If you don't have adequate insurance coverage, or if you fail to meet specific deadlines during your insurance claim, it could lead to your business closing permanently.
Hiring a public adjuster to take over your insurance claim could be the key to your business surviving. A public adjuster does not work for the insurance company; the property owner hires them to provide expert claims management services.
Sill is the leading public adjusting firm in North America. We have offices throughout North America, which means we can respond to any location within hours of a disaster. We specialize in large and complex insurance claims involving businesses, commercial property, and high-value residential claims.
Hurricane insurance claims can be exceptionally challenging, given the amount of widespread damage. If you contact Sill, our team can inspect any damage and produce a detailed proof of loss report, which your insurance provider will require.
Our company features insurance policy, building, and contents damage experts, and forensic accountants. Our forensic accountants can handle your business interruption claims. Business interruption claims involve loss of revenue and continued payroll.
If your home or business is in an area that a hurricane could impact, visit our Hurricane Insurance Survival Guide to find advice that could save your business.
If a storm damages your property, you can contact Sill 24/7 by calling 844.650.7455. When you hire Sill, we will expedite your claim and ensure you get the settlement you deserve.