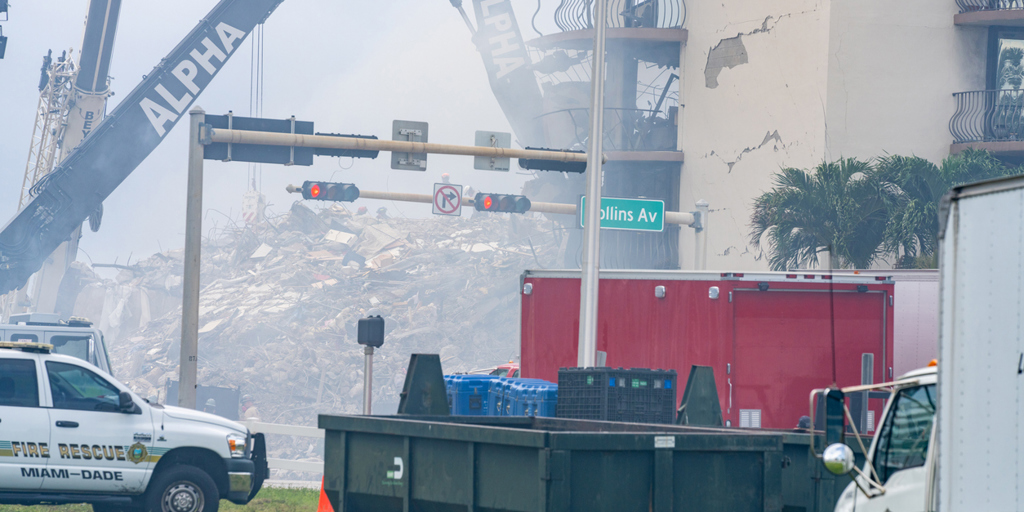 The condo collapse in Surfside, Florida has prompted state leaders to review building safety measures. This new information comes out as recovery efforts continue at the site of the Champlain Towers South collapse.
The death toll has reached 97, and officials there say they'll continue to search the rubble until every single person is found.
A building collapse is unique for property owners as there are many factors to consider. If the building is showing signs of sagging it is possible the insurance provider would not cover the cost of any repairs. However, if a property owner notices signs of sagging but does nothing that may also impact an insurance claim.
The situation is Surfside, Florida is sure to prompt changes in occupancy permits for these types of large residential structures. Right now in Miami-Dade an engineer is required to inspect a building for structural integrity every 10 years, after the building is 40 years old.
According to CNN.com the Champlain Towers South building would have reached 40 years old this year.
Once recovery and cleanup efforts are complete, there is sure to be policy changes in Florida and likely outside of the state as well. 
For building owners a collapse can lead to a difficult and especially challenging insurance claim. Sill's team of public adjusters will carefully follow the situation in Florida to understand how it may affect the future of the insurance business.
In the event of a building collapse you are going to want to assemble a team of building damage, insurance policy, and business interruption experts. At Sill, the leading public adjusting firm in North America, we have teams that cover all three of these areas.
Our building damage experts can provide an extensive damage report, documenting every detail of the cause of a collapse. Our insurance policy experts can offer an expert review of your policy to identify all coverages that you would be entitled to.
Our team of forensic accountants can also work with your business to recover lost revenue and get your business back on track. When you hire Sill you get the settlement you deserve and we have successfully negotiated insurance claims with almost every insurance provider in the business.
We can help you to reach a settlement much faster than you will on your own.
Sill will follow the situation in Florida and share important updates or changes that come as a result of this horrific incident.