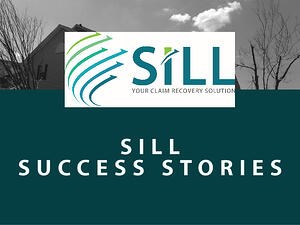 Clients who hire Sill know they're hiring the industry leaders when it comes to public adjusting. In many cases, our clients have come back to Sill when they have experienced a new loss claim at another property.

In 2015, the Pharma Packaging Solutions facility in eastern Tennessee was damaged after a winter storm led to a roof collapse. Company leaders described it as a traumatic and business-threatening ordeal.

Sill's team of public adjusters we're at work within days of collapse to guide the company through their insurance claim process. Sill continued to work alongside key stakeholders to assist the company with a site relocation, as well as customer retention and recovery efforts.

Four years later a tornado struck the Carton Service facility in Shelby, Ohio which has the same owner. Reid Lederer again chose to work with Sill through this new insurance claim.

Sill helped Carton Service with property recovery, equipment relocation, and refurbishment needs. Most importantly, Sill handled the insurance negotiations allowing the business owners to have peace of mind, and focus on getting the business operational again.

"In both cases, Mike Hickle and the rest of the Sill team delivered expert advice, steady accurate communications, and support to recover our business and gain appropriate financial recovery that we deserved following the years of paying for corporate insurance premiums which were in place for both of these unforeseen events." said Reid Lederer, President and Owner of Pharma Packaging Solutions and Carton Service.

Sill is the leading public adjusting firm in the country, and our experts handle hundreds of claims each year. Our team understands the fine print in your insurance policy, and we're prepared to manage your claims negotiation through to a final settlement.


---
SUFFERED A LOSS? | CONTACT SILL TODAY
---

In most cases Sill helps our clients to see an increase in a settlement amount, over an insurance adjuster's initial loss valuation. Sill also routinely brings a loss claim to a quicker resolution which allows our clients to restore business operations.

If your business or home is damaged in any type of incident you should contact Sill immediately. We have offices throughout the United States, with experts ready to join you at your property, where we always represent our clients and never the insurance company.