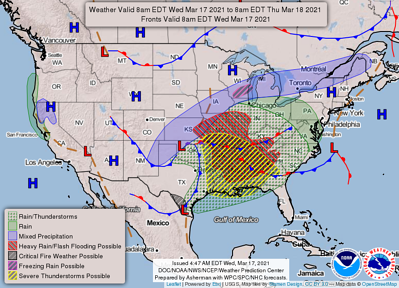 According to The Weather Channel a dangerous tornado outbreak could impact the deep south. Meteorologists are tracking a weather system that could bring intense storms, hail, damaging winds, and tornadoes to parts of Mississippi and Alabama.
The National Weather Service has already issued some watches and warnings. Anyone who lives in the affected area will need to pay attention to the weather situation for the next 48-hours.
A tornado is a violent storm that can be devastating for any business or home. Your first action is to stay informed about the weather, and take the necessary steps to protect yourself, your employees, and your family.
In that aftermath of any storm you may be left with severe property damage. Sill's disaster response team will be able to respond to any location immediately after the storm.
Our team of property damage experts can get your property damage insurance claim started right away, taking the burden off your shoulders. We assist hundreds of business owners each year, by offering a complete analysis and report of the value of the damage, reviewing your current insurance policy to identify all coverage options, and by negotiating directly with your insurance company to ensure you get the settlement you deserve in any claim.
We can also expedite the settlement process, getting payments to help with business payroll needs, and recouping lost revenue resulting from storm damage.
Here's our process:
Review your insurance policy
Document your property damage and all contents
Schedule meetings and handle all communication with your insurance company
Finalize your settlement faster
Sill is the leading public adjusting firm in North America with more than 30 office locations. Our team of licensed insurance experts can typically respond to your property within hours of any type of damage. Hiring a public adjuster could save you thousands of dollars, and help you to avoid any additional stress during a difficult time.
Contact our team 24/7 by emailing info@sill.com, or by calling 800-524-0006.